Welcome to the digital age!
Do you think that using digital signage is too expensive for the small business owner?  Think again!  Twin Oaks Marketing LLC has found a way to bring Digital Advertising to local business at a very reasonable cost.  We are opening up a whole new avenue of opportunity for small and medium sized business to put their companies in front of customers.
New and Exciting use of Digital Marketing
Digital Signage
We can hardly contain ourselves!  There are so many new and exciting digital media marketing programs that Twin Oaks Marketing LLC has to offer to you to help increase your exposure online and offline.  That's right!  We can help you use digital Signage without having to rank your website.  There is more than one pony to ride!
Digital Marketing is so mind blowing and so powerful for small business that it is hard to describe.  These few words can't begin to convey the power of the new digital advertising plans that Twin Oaks Marketing has to offer.   We have so many tools to help you use digital marketing bring you new customers and bring your current customers back more often, that you just need to give us a call.  We can help tailor a digital marketing program that is best for your business.  One size does not fit all in digital marketing.  We want to help you use these powerful tools to get more business in your door.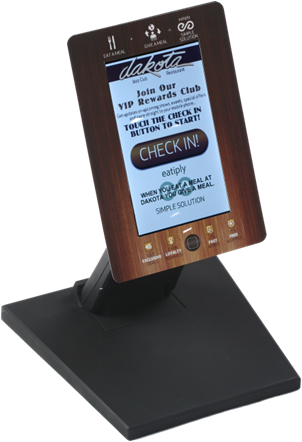 In Store Kiosks use digital advertising to keep your customers coming back and get new customers in your door.  We have taken customer loyalty to a new level. By using our digital kiosks your customers will be given incentives to keep them coming back.  In the process they will be giving permission to send them more reasons to visit more often.  We can make your customer loyalty fun and interactive so that your customers are engaged and look forward to visiting you.   The Kiosks look sharp in your business and create that WOW factor that you will love.  There are so many different ways to keep your customers interested by using digital advertising on the kiosks that you really need to give us a call.
Here are just a few of the possibilities that we can offer:
Digital Customer Loyalty punch cards- Who wouldn't love that?  No bulky card for the customer and your employee never has to waste time handing out cards or looking for that hole-puncher again!
Restaurant menus- How would you like your menu to be right there in where your customers are waiting for a table?  Digital signage can be used to promote your specials, suggest an appetizer or give your customers a coupon and get the chance to push your promotions to their mobile phones to get them coming back more often.
Games – We have short interactive games that can promote your business and make it fun for your customers to get your messages or coupons.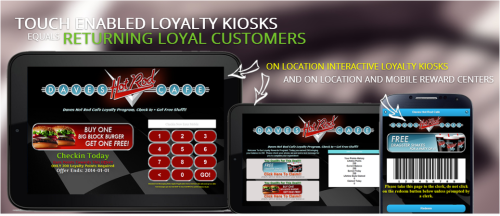 The Kiosks can be used for customer loyalty or you can be a part of the Twin Oaks Advertising Network.  You can remind your customers to visit you when they are out and about on other errands around town.  By becoming a part of the network, you can have your ad seen in other non-competing high traffic businesses in your area.  Better yet, give customers a reason to visit with a coupon.  We can deliver coupons to your customer within minutes with no printing or mailing cost.  You can just advertise if you want to keep the costs low, or host the Kiosk and reap the benefits of viral sharing as well as being able to reach out to customers for future campaigns.   Digital Signage works great in waiting rooms too!
What is the best form of advertising?  Word of mouth!  When your customers tell their friends that you are the greatest thing since sliced bread they tend to believe them.  They trust their friends and are willing to give you a try just because their friends said so.  If only we could think of a place were friends could tell other friends that they like you…..hmmm….how about Facebook?  But you've have a Facebook page and it's a lot of work.  Yes it is, but we are talking about using Facebook in a whole new way.  You don't need to do ANY of the work.  We can do it all!
Twin Oaks Marketing can help you use the power of Facebook to allow your customers to tell their friends and have fun doing it!  Facebook is the ultimate word of mouth advertising platform and you will be amazed at how many new customers you will be able to reach without lifting a finger.  Your customers will do the work for you.  All you have to do is give them a reason and opportunity to do it.  We can give you both!  This is not your standard Facebook management.  This is one of those brilliant ideas that you didn't even know was possible.   You have to see this to understand the possibilities.  Call us and we can show you a demo and explain the process.
Digital Marketing for local business… Twin Oaks Marketing LLC can make it happen for you.  Call us at 608-314-7371 to open up a whole new world of digital advertising possibilities for your local business.