Google Plus Local – Formally Known as Google Places
If you do nothing else to help your customers find you in the Google Search Engines, you must do this!  Google Plus Local was called Google Places.  It is still the most important thing you can do to get started with your online ranking. Claiming your Google Plus Local / Google Places page is the first step into the digital age and internet marketing for any business with or without a website.
Important Warning About Claiming Your Google Plus Local Page.
Done correctly, Google Plus Local can be the easiest way to rank in the Google Search.  Google is the creator of Google Plus Local so, of course, they are going to give it a lot of Google love.  Be warned… there is a right way and a wrong way of claiming your Google Plus Local / Google Places page.  If you don't claim your page and optimize this correctly from the beginning, it can be very difficult to correct.  Not impossible, but you certainly have a challenge ahead of you.  You will most likely need to hire a professional to undo the damage and it could cost you more in the end in lost sales.
Many people think that it is fairly simple.  You go in and claim your page, right?   Not really.  There are ways to set up your keywords and descriptions that will allow your page to rank higher in the Google search.  By filling out the page without knowing what they are looking for, you can actually get your page stuck in cyberspace.  Good luck getting Google to help!  A Google Plus Local expert knows what works and what doesn't.  Twin Oaks Marketing LLC has just such an expert.
Why do we say that this must be done above all else to be found in the search engines?  The search engines are not about giving you a place to advertise your business.  They are about giving the user a relevant experience in finding what they are looking for.  If a user is looking for camping gear and a body shop comes up on the search that is not a good user experience.  Again you say, so?  So… Google wants to make sure you are a legitimate business and you are all about what you say you are.  The more legitimate Google sees your business and the more relevant you are to your key words, the higher you can rank.  Google Plus Local / Google Places is a big step in that direction.
What Can a Google Plus Local Expert Do For Your Business?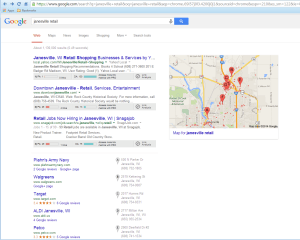 Once you're Google Plus Local page is completed correctly, that's when the fun begins.  As an expert in Google Plus Local, we know this is where many businesses stop.  Nay, Nay I say!  Don't stop there!  Just because you are on Google Places doesn't mean that you are legitimate to Google yet.  You are not legitimate in Google's opinion until other places on the internet verify and accept you as a business relevant to your keywords.  This is where the magic begins! There is strategy to this step and best not left to amateurs.
We can guarantee you that if you are not in Google Plus Local; you will have an extremely difficult time in ranking your website. We can also guarantee if you don't take the next step and apply the secret sauce; you will have an uphill climb to rank your places page and your website. With an optimized Google Plus Local page that is linked correctly to your website, and taking that extra step to legitimize your business with others, you may stand out above your competition, or at least have a fighting chance on the search engines.
Using Google Plus Local to Locate Your Business.
Google Plus Local is also used by other applications to find your business location on GPS and Mobile devices.  If you want a mobile phone's GPS to bring your customers straight to your front door, you must be listed where the application can find you.  Many of these programs the same database Google Plus Local uses as their source. We are tapped into that database. In fact we can provide monthly updates to that database insuring that Google and other places know your data is correct and up to date.
With the combination of an easy to use mobile website that integrates Google Plus Local / Google Places, you can give your customers turn-by-turn directions straight to your business, and that turns into profits for you.  Give Google search and your customers what they need to find you.
Have a Google Places expert claim and optimize your Google Plus Local / Google Places page.  Call Twin Oaks Marketing, LLC at 608-314-7371 to see what we can do for you.