Mobile Web Design
How does your business mobile website appear on a mobile device?   Have you looked?  If not, take out your mobile phone and look.  We'll wait…..  If it's perfect, then you are one of the few.  Most mobile websites are just mini versions of the main website.  Your customers need a magnifying glass to find what they are looking for.  If they are like most, they just give up and move to the next.

Does your mobile web design bring business into your door?  It should!  Smartphones are the one thing most people won't leave home without.  We have come to rely on them as our phone books, maps, and a way to keep in contact with our friends.  By the end of 2014 there will be more smart phones in use than desktop computers.  Your business would be smart to use a mobile website to help your customers do business with you.  Good customer service begins with helping your customers find what they are looking for no matter if they are in your store or looking for your store on their mobile phone.
What type of Mobile Website is best for your business?
There are two types of mobile web design; a stand alone mobile website or a responsive mobile website.   Which one is right for you?  There is no right answer, it depends on what you do in your business. Call Twin Oaks Marketing LLC and we can help you figure it out.
The first question you must ask yourself is why would my customer use their mobile phone with my business?  This is the most important question to honestly answer because it will help to choose what type of Mobile Web Design is right for your business.
A responsive mobile website design takes your current website and converts it to look better on a mobile device.  If the information that your customers are looking up on their mobile phones is in need of constant updating, then this may be best for you as it interfaces with your main website.  If you update the main site your mobile website is updated automatically. However, this is still usually more difficult for your customers to use.
A stand alone mobile web design is a website that is specifically designed to give your customers what they need and make it extremely easy to use.  Twin Oaks Marketing LLC can make your mobile website take your customers to specific places on your website or bring them right to your front door.
What do you want your customers to do?
Call you…..  

This feature will automatically call your phone number.
See your hours of operation…. Tap for Store Hours
Answer your customers main questions and reduce their frustration.
Make reservations or appointment …. Tap here for your reservation
This can call your phone number or take your customers to an online reservation or appointment program if your business has one.  If not, we can talk about adding these types of programs to your business as well.
See your menu …..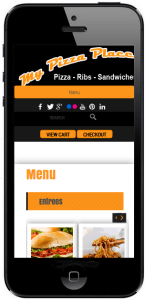 Take your customers straight to your menu.  Put a tap to call on this page to make it easy.  Or go straight to your online order program from your menu.  Don't have one?  We can help you with that too!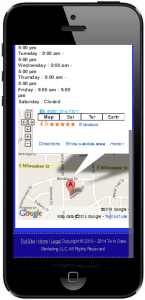 Find you….
We can even make this interactive with GPS to bring them right to your front door!
Order Online…. Click to order
Don't' make them think about how to give you their money.
Put your Coupons in your client's hands… Click for coupon
Some people may need a little extra incentive to visit.  Give them that little push with a coupon.
See your reviews- Click for reviews
What are the top 5 calls to action would you like to put in your customer's hands?  Give your customers an easy to use Mobile Web Design and make it easy to do business with you.   Good Mobile Web Design is just good business!