We can all agree that word of mouth advertising is the best kind of advertising there is for all businesses. "Word of mouth" in today's world has taken the form of online reviews and your reputation is left to the whim of the online reviewer.
Your reputation is everything and you are only one review away from a bad reputation.
Customers look you up online to see if they want to do business with you. They may look at your website and your advertising that you have paid thousands of dollars for, but do you know what they pay the most attention to when they decide if they want to trust you? Your online reviews!
In fact one of the most recognized companies for advertising ratings in the nation, the Nielsen's, has surveyed this question. Their survey showed that 92 percent of people trust recommendations from people they know. No big news there. The shocker is that the right behind that is the fact that over the last few years over 70% of consumers trust opinions from online reviews!
Given the choice of a company with two good reviews or your competition that has ten 5-star reviews, who do you think gets the customer? How about one with no reviews and one with ten 5-star reviews? Most customers will choose the company with ten 5-star reviews and many will pay more for the peace of mind. The more your business is about service like a medical office, orthodontist or real estate agent, the more your reputation is a consideration in the customer's decision. The more moving parts you have, like a receptionist, sales person, waitress, office staff that can have a bad moment, the more your reputation can suffer without you even knowing it happened.
Customers say what customers will and free speech is alive and well on the internet. Your receptionist has a bad day and next thing you know your reputation is damaged. If that is the only review associated to you, then you have a problem. How about fake reviews? Sometimes an unscrupulous competitor or disgruntled employee may be posting reviews that are just are not true. Even though they may not be true, potential customers only see the bad marks and your sales takes a nose dive.
But what can you do about it? Many companies will offer to monitor your reputation. They will tell you when bad reviews are posted. Great information to have but that is not even close to good enough. It doesn't fix the problem or give you a better reputation online. Just monitoring your reputation may be good enough for some, but it isn't up to our standards and shouldn't be good enough for you. Monitoring doesn't make you money, marketing does!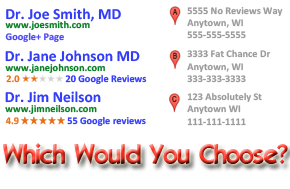 That's what makes Twin Oaks Marketing, so unique. We don't just monitor your reputation, we build your reputation, manage it and get out there and market it! Reputation Marketing is more than keeping track of your reviews. Actively marketing your reputation and training your staff to motivate your customers to give you 5 star reviews is our specialty. Our proprietary system will help you turn every customer experience into a 5-star experience that will produce great reviews. We will proactively market those reviews through multiple sources including social media, so that when new customers look for you they find not just good reviews, but great reviews. We can't stop the free speech of those one or two that caught someone on an off day, but buried in a pack of great reviews, they are insignificant to your overall Zagat business rating or anyone else looking at your reputation online.
When your customers come through your door after reading your reviews they are already sold on you. They already trust and respect you. All you need to do is live up to your reputation and give them a reason to give you another 5-star review. You can concentrate your efforts on finding new customers instead of talking them off the fence. You can use your new-found online reputation as an effective sales tool. "Don't just take my word for it, look us up online." And when they do, they are SOLD!

We will also train and motivate your staff to create a reputation marketing culture. We want your staff to do a great job with your customers, giving them a first class experience and giving you a 5-star review. We want every single person in your company on board and focused on creating a 5-star attitude within your business. We will provide them the training to get there. Everyone on your staff will know that keeping that 5-star reputation fresh, current and dominating the online reputation profile that your customers find is essential to their success as well as yours. You will be amazed at the transformation of your employees and the new team you will inspire.
Because your reputation is everything don't just monitor it, market your great reputation. Every other advertising dollar you spend depends on it. You may as well throw your money away if your customers don't find great things online when they look you up. Use the greatest form of advertising to your advantage. Twin Oaks Marketing will help you take your "word of mouth" advertising to the next level and teach you to keep it there!