Is it fair to assume that today's customers are able to influence your company's reputation with negative reviews in real-time? More importantly, can they change how other customers see your company's brand simply by how they engage your company online? Actually, yes they can. In fact, today's customer is constantly on the move, constantly accessible and constantly connected to the online world.
Reputation management strategies of the past no longer have any influence on today's customers. It's no longer about defining your reputation and brand within your market by controlling the message, or better put, controlling the medium. Customers don't always take the time to call your company directly or visit your website to issue a complaint. More and more of today's customers turn to social media to voice their displeasure by means of negative reviews.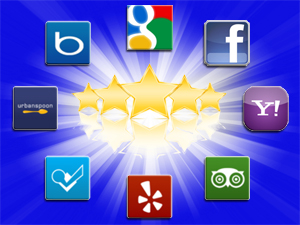 Online reputation management is live, continuously evolving and never static or stationary. If your market is the global economy, then you can be assured that someone, somewhere, likely has something to say about your product and service offering. If they don't feel your company is addressing their concerns, then they'll share their displeasure with friends, family members and like-minded individuals online. So, what can your company do to be more proactive instead of reactive with today's customers?
• Identify Customer Segments:
First, focus on understanding how and where your customers get together. For instance, do you service businesses or consumers? Understanding where your customers are online goes a long way to understanding how they communicate and how they voice their opinions with good and bad reviews. Customers can voice their unhappiness on social media, forums and or market-specific online directories. Customers will also look you up online, so if your Google My Business page comes up when they search your business name then they can easily find a place to vent their frustration.
• Understand Your Online Reputation:
First you must monitor all of the online directories and social media for reviews. This is a very time consuming process if done daily like it should be. The best method to doing this is to hire someone who uses a monitoring system. It is not expensive to do this and usually can be done daily for less than an fancy cup of coffee. You can manually monitor your online reputation and try to find bad reviews about your product or service. All you need to do is combine your company name with words like "scam" or "fraud" or "bad service" when you perform an online search. However, don't resign yourself to using just one search engine. Google is the dominant search engine, but there are others and their combined market share is considerable. Then start to look up your page in all of the local business directories like Yelp, YP, Bing, Google, Yahoo, Trip Advisor, Urban Spoon, City Search, Superpages, Four Square, Dealer Rater, Judy's Book, Merchant Circle, Hotfrog just to name a few. Lastly monitor social media pages like FaceBook to find reviews there. Remember this should be done every day.
• Flag the review as inappropriate:
If you receive a review that has broken terms of service in Google My Business or other directories then flag it as inappropriate for the directory or owner of the system to be reviewed for removal. Remember that this is not a guarantee that the review will be removed. It is just a means to show the search engine or directory that you believe this review breaks terms of service or is spam and that it should be removed. If someone does not like your pizza for instance and says so within the terms of service, Google will not remove it.
• Engage Your Audience:
The issue isn't whether or not customers will complain. The issue is what your company will do to manage and address their concerns. Be proactive and engage your audience online. Make sure you have all the facts about the situation and be honest and understanding. Be willing to address their concerns and focus on providing workable solutions. Do not go off on this person or you will make things worse even if it is completely untrue. If you know it is untrue then say so and calmly give your reasoning.
• Encourage your happy customers to leave reviews:
It is very important to have a system that allows people to leave reviews in an easy to use way. Try to use technology in your favor and make the process as streamlined as possible. The more difficult the process the less reviews you will have. This usually involves setting up a place where customers can go to leave reviews and then redirecting them to your Google page with a link or QR code so they don't have to look you up. Keep it as simple as possible.
If you are looking to better engage your audience online, while improving your overall online presence, then Twin Oaks Marketing LLC may just provide the guidance you're searching for. Their strategy is to focus on a proactive approach to reputation management. Then marketing that good reputation to drive more customers to your business. Twin Oaks Marketing provides an integrated full-service solution to managing your company's online brand and reputation.